According to you,
Did Sonja fail a fight
?
Welcome back in the tales of the She-devil with a sword!

I would speak today to a underrated part of Red Sonja adventures…her defeats!
Cause the warrior girl had already known the bitterness of being beaten in fight…And Worse…in a dual against a man!! (And remember her oath!)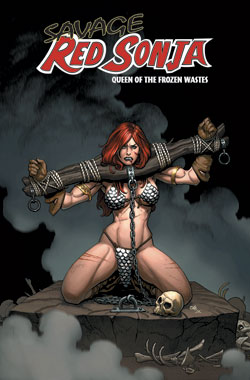 Let me tell you today these …hum epics episodes:
I think Sonja had been defeated six times in a duel.
Her first conqueror is…
Conan
!
The cimmerian had battled with, and against the she-devil many times before this one, but never the giant had been able to win face to the blessed heroin…Or just in the two following occasions!
In the first, he hesitated in killing her as he owed her a life debt and decided to spare her. In the second, they meet again in a tavern. Conan, this time was sad..Depressed by the death of his greatest love, Belit, the queen of the Black Coast.
He bested her after she made cutting remarks about his recently dead love Belit and a duel ensued. The giant shows her that a real man is able!
The victory was somewhat uncertain (Sonja slipped on a wet bar floor) but Sonja was convinced enough of the victory to return to Conan's inn room, where Conan found himself too despondent over Belit to enjoy the victory.
Yes, the heroin accept to respect her curse and offer her body to the barbarian…But Conan refuse the invitation !
So Conan let his only chance to take Sonja ! Despite all his precedents try. Power of love…
Sonja leave in silence, probably grateful to the circumstance…
Lot of adventure later, Sonja become the captain of a thousand strong mercenary army: But one of her warrior challenge the She-Devil ; His name is Lassauar, and he clearly say to want forcing her to respect her oath, and tame her sexually .
And, great surprise, he defeated her easily in a single combat…By treachery, but Sonja don't know this important detail. Despite her hate, the young woman had no more choice but accept the plan of her conqueror…
So luckily, a wizard save her, reveal the trick, and Sonja hunts down and kills Lassauar!
Few month later , she meet again Conan, and join his allies against a terrible sorcerer, Wrarrl, the Devourer of Souls…
The creature Wrarrl transforms a mercenary named Bahkt ( a strong cimerian) into a superhuman creature called "The Dark Apostle" and Bahkt attacks and brutally beats Red Sonja. Conan finds her barely alive. Conan hunts down and kills Bahkt.
I remember my surprised ( I was a child when I have reading this story) , when I have seeing Red Sonja on floor, defeated …and certainly raped by the wild Bakth . The fans are not sure that Bakht had really sexually assaulted Sonja, ( I believe she still dressed when Conan find her) . But after this terrible defeat Sonja is injured to such a degree that she believes that her skills left her and proves to be more burden in the coming travels than help to Conan.
A few time, she becomes a feeble woman, convince that she had losing the blessing of her goddess.
But it was not a dual but an ambush, and Bakht was helped by magic enhancement. She finally regain her assurance, and become more dangerous than ever.
The fourth time is..hum..very special!
It was in "What If" stories may be counted of Marvel. Sonja meet the most célèbre Xman….and lost a battle to a time-displaced Wolverine and become his mate!
However this story is just a "what if ", and not a part of the official chronology…
The fifth time is, again, special: This time she falls in love with Lord Linneus, a dreamy Nemedian . She agrees to marry him, and give him the keys for wining a fight against her. But later, when Linneus cowardly allows his sister to die, she leaves him.
The last time is again …a little bit special. It's in the recent comics, where Sonja fight bluntly a god!
Despite her companions she is no match for Kaleval ( look like "Thor", in Marvel comics) .
Defeated easily by the weakened warrior god, ( imagine "Thor"character's, in Marvel comics) they secured his promise of help against the rising of a coming darkness and Kaleval himself guided Sonja to a mystical blade needed in the coming conflict. As they rested, Sonja removed her armor and offered herself to Kaleval, who was all too eager to indulge in Sonja's ample charms.
This led to some outrage amongst Sonja fans as questions were raised about how this allowed Sonja to stay true to her oath. Are male gods not considered men? Does three mortals against a god truly count as "a fair fight"? And why would Sonja be offering herself to the god if he were not insisting on her honoring her oath...
In my mind, this time Sonja WANTED to sleep with the god.
And the sixth ? ho…it is naturally when I met the She-devil!
May be one day I'll relate this epic tales…May be…






( Thanks to lookingtodastar for having inspire a part of this post!)